Phone: (847) 629-5925 | info@jssportsbarandgrill.net | Open early for games every SAT & SUN at 11am
J's Anniversary Bash, September 2nd with music starting at 4 pm. Come out and help us celebrate our 7 year anniversary with our annual bash!  There will be promotional giveaways, Red Neck Boys performing at night, and good food and drink specials throughout the day. Awesome Hand Gaming Bar Olympics Info Check-in time for the bar Olympics starts at 3:30 pm PLAYERS MUST BE PRESENT AT CHECK-IN TIME TO PARTICIPATE $5 in free slot play for everyone who registers to participate. Pre-register in person at time of event, or ahead of time online at awesomehandgaming.com/events Games begin promptly at 4 pm. 1st Place – $50 in free slot play and a $30 J's Gift Card 2nd Place – $30 in free slot play and a $20 J's Gift Card 3rd Place – $20 in free slot play and a $10 J's Gift Card Stations include: Battle Pong Bags Battle Ships Darts
It's the Bar Wars Arm Wrestling Qualifier at J's Sports Bar and Grill.  Every one can enter, one will win.  Do you have what it takes? Event Details: $10 Entry Fee "Per Arm" Double Elimination Mens Class Right and Left 165 lbs and under 166 lbs to 195 196 lbs to 225 226 lbs an up Womens Class Right and Left Under 138 lbs Over 139 lbs Weigh in begins at 6 pm Tournament begins promptly at 8 pm.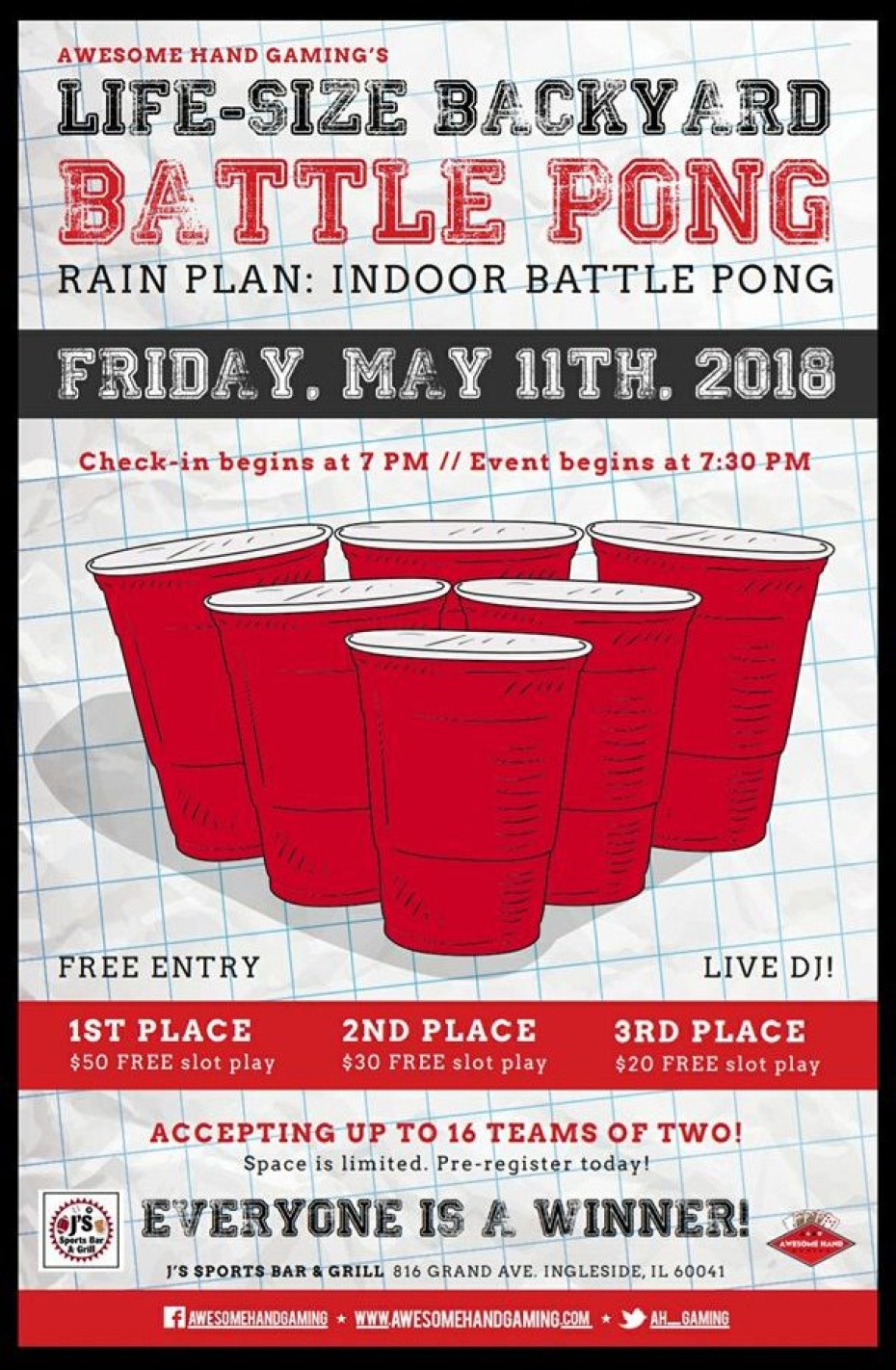 Awesome Hand Gaming Presents Life-Sized Backyard Battle Pong at J's Sports Bar and Grill, on Friday, May 11th.  Accepting up to 16 teams of two.  Space is limited, Pre-register today at J's. Live DJ Free Entry 1st Place – $50 FREE Slot play 2nd Place – $30 FREE slot play 3rd Place – $20 FREE show play Rain Plan: Indoor Battle Pong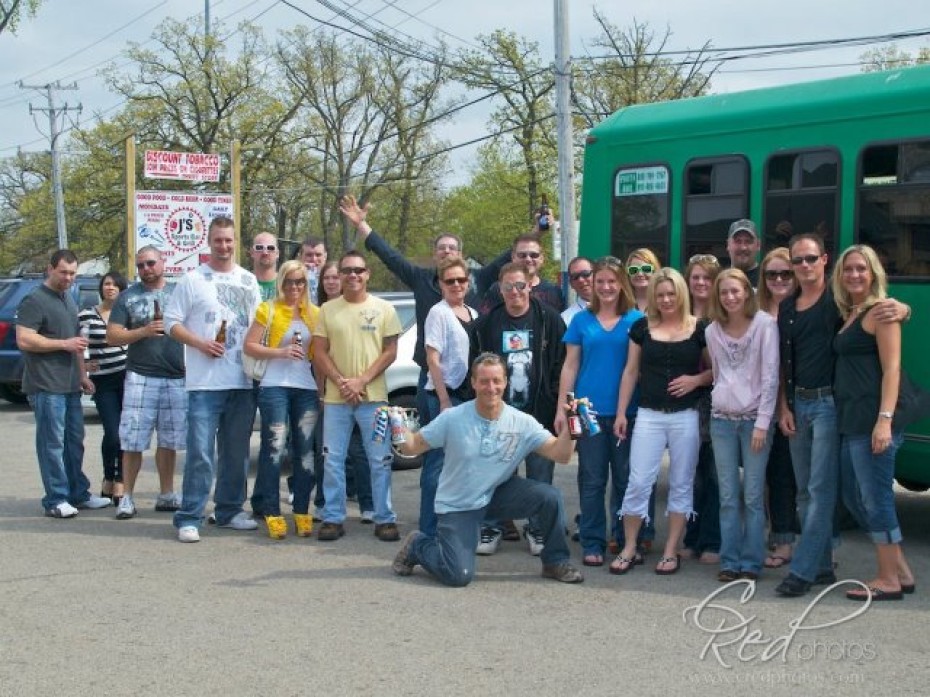 Saturday, April 14th,  we pack the shuttle and go crawlin' around our favorite bars on the chain.  First stop, J's Sports Bar and Gril! $20 per person Shuttle Includes Jello shots and beer on the bus Party starts at J's at noon, Bus leaves J's at 2 pm. Crawl Stops: J's Sports Bar and Grill – Time: 12 PM start Thirsty Horse Uncle Mikes Hawg Heaven Looneys Bus leaves J's at 2 pm and returns at 7 pm where the party continues!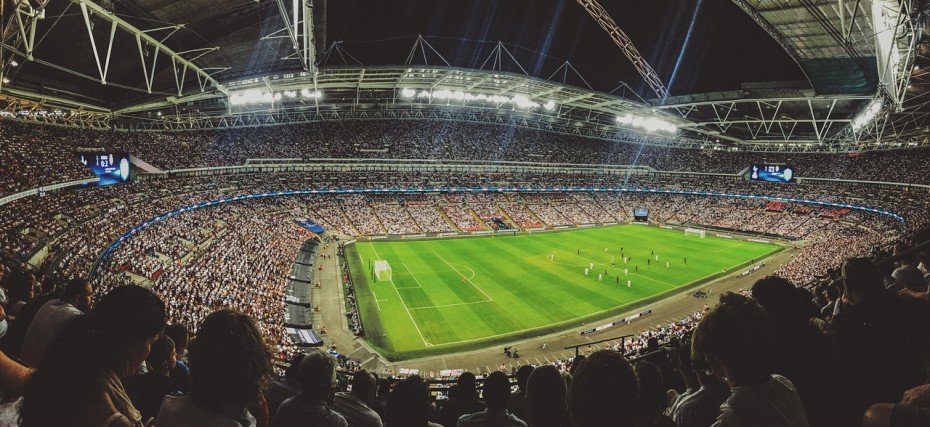 Come join us at J's as the Eagles take on the Patriots for the National Football League Championship, Sunday, February 4th. The game starts at 5:30 PM, but the party starts earlier! Plenty of tv's to watch the game on. Prizes Giveaways Free 1/2 time food! Drink Specials Get here early for the pregame! See ya then!!!!

Let's get spooky, Saturday, October 28th at 8pm for J's Halloween BASH! Live DJ set by Jimmy Jam Costume contest (Over $500 in prizes!) 1st, 2nd, and 3rd place Winners announced at 11 pm Giveaways, Drink Specials and prizes for best Halloween costumes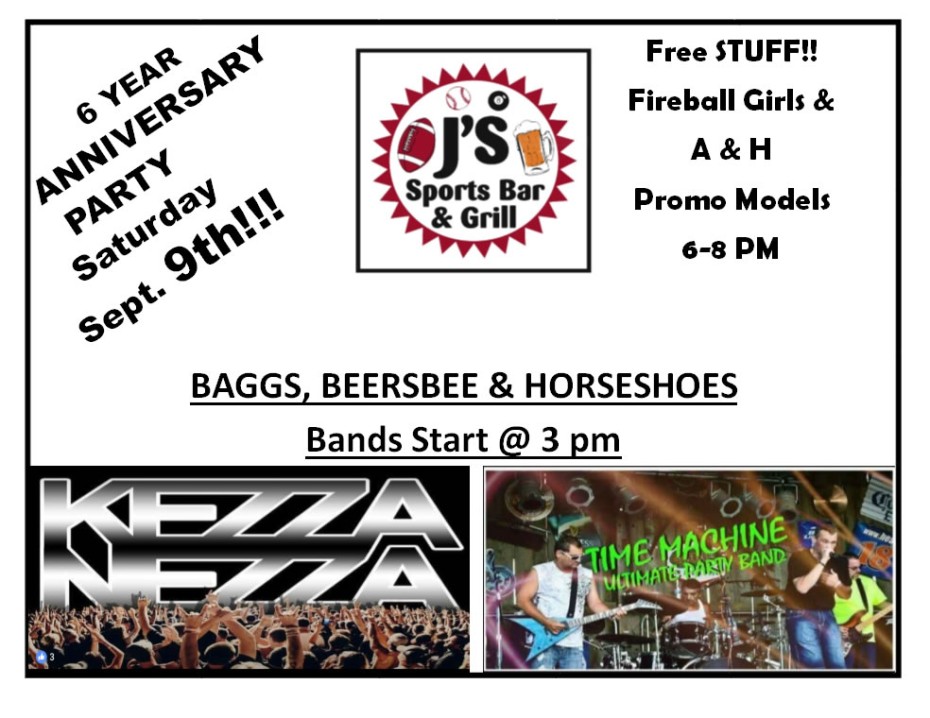 6TH ANNIVERSARY PARTY, September 9th with music starting at 3 pm Come out and help us celebrate our 6 year anniversary! LIVE MUSIC starts outside at 3 pm with with Time Machine Ultimate Party! KEZZA NEZZA – Keeza Neeza – Rock & Roll and classic hits from the 70's to current. (facebook link) Promotional Giveaways Fireball Girls / A & H Promo Models from 6 to 8 pm Great food and drinks available thru out the day…See you there!!!!!
It's time to ride! Our friends at FindARally.com present Bike Night at J's Sports Bar and Grill, Wednesday night, June 18th.  Belt sander races will take place along with a bike wash. Previous images from biker events at J's

2 years ago, Bull was injured on the job.  Since then he's endured constant round the clock pain from his neck, shoulders, arms and hand, with night terrors from the pain.  He has had 3 procedures, none have helped. This is daily life now, no relief and no cure. Bull is permanently disabled at this point. He has trouble writing, typing holding anything in his hands, including playing guitar for long periods of time. Talking is difficult, let alone singing. If you've met Bull you know his passion is music. You can imagine how heartbroken he is. The medical bills will take a lifetime to pay off. This man has always been there for us through friendships, brotherhood and music. We have all watched him play, sing and perform. The amount of charities he's been a part of made a huge impact. He needs us and it's time to give back to someone who has given us so many good times from 86 Strict, the Dublin days and Cereboca. Please join us for a benefit for our brother and friend! It will be a great day of games, prizes, music and good people. $10 donation for adults, $5 donation for kids 12-3 yo , 3 & under are free. Music Schedule R/Evolution, Fuzzy & The Motherf*ckers Practice in Public Mike Schroeder Mo Chisler Kezza Nezza 50/50 Raffle! Silent Auction. *winners must be present to claim prize Half Price Pizza till 6 pm $3 Aluminum Pints $5 Jameson ( J's donates half to Bull) GoFundMe https://www.gofundme.com/2rze39gp?r=39995 Facebook https:facebook.com/UnbreakaBul/?fref=ts For more Information contact Theresa Nickol 224.656.2030
Grab your friends and come out to support a great cause.  All proceeds raised from raffles at this event will be donated to Autism Family Cures, a charity based in Lake County, IL that benefits our local autism community.  For more information on this charity, find them on facebook and online at autismfamilycares.org