Phone: (847) 629-5925 | info@jssportsbarandgrill.net | Open early for games every SAT & SUN at 11am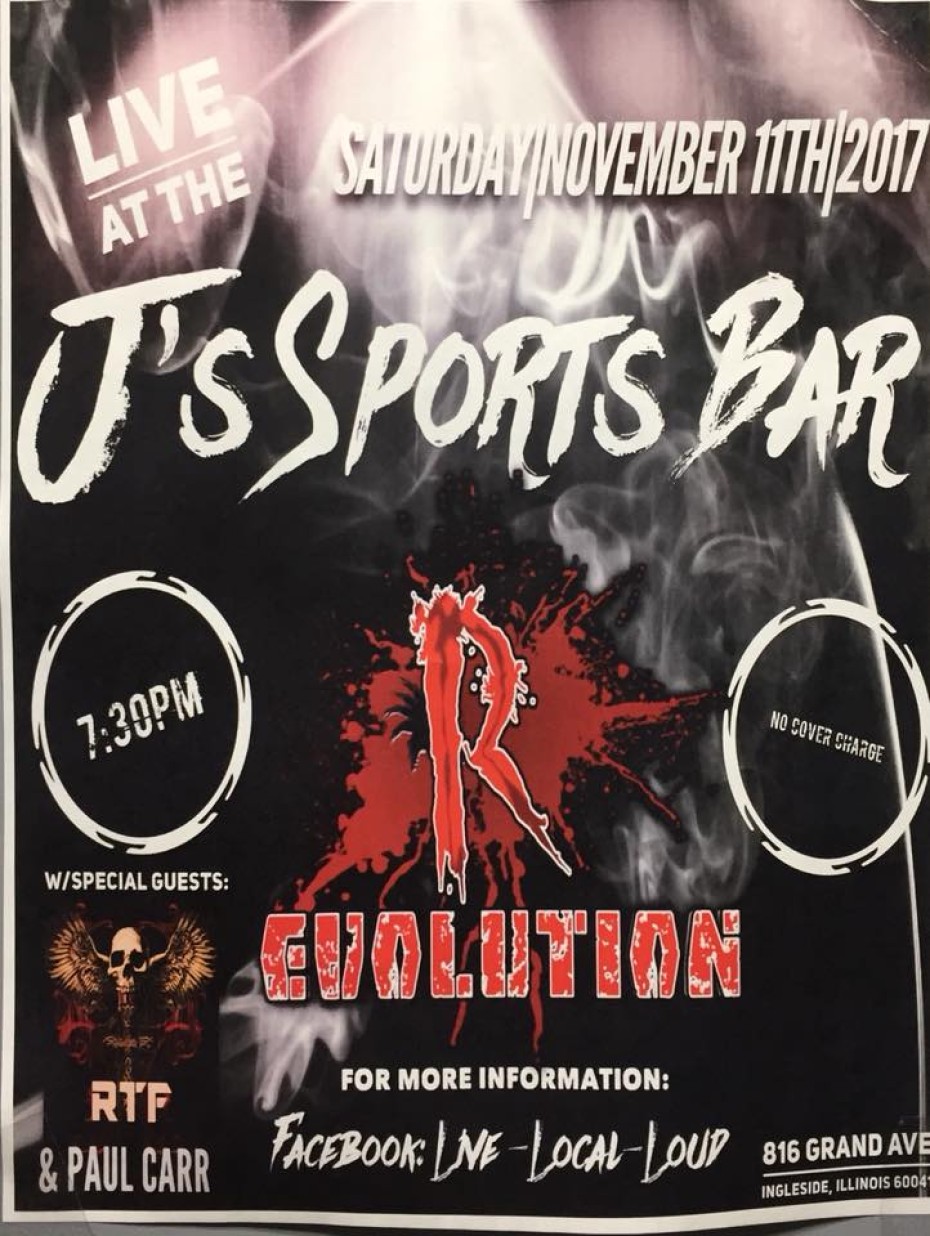 November 11, 2017: 7:30 pm - November 12, 2017 12:00 am

"It's live, it's local, and it's loud." R Evolution with special guest RTF & Paul Carr will perform at J's Sports Bar and Grill, Saturday, November 11th.  Show starts at 7:30 pm. 21+, Free admission.

October 28, 2017: 8:00 pm - October 29, 2017 1:00 am

Let's get spooky, Saturday, October 28th at 8pm for J's Halloween BASH! Live DJ set by Jimmy Jam Costume contest (Over $500 in prizes!) 1st, 2nd, and 3rd place Winners announced at 11 pm Giveaways, Drink Specials and prizes for best Halloween costumes
October 21, 2017: 9:00 pm - October 22, 2017 1:00 am

High energy cover band Retro Active takes the Stage at J's Sports Bar and Grill, Saturday, October 21st starting at 9pm.  Inspired by Billy Idol, Ozzy, Sabbath, ZZ Top, Iron Maiden, and Scorpions just to name a few, The Wauconda based band plays 80's hair metal the the "Not so hair metal" songs. Drink Specials: $4 Smirnoff Mixers $4 Bombs $3 Aluminum Pints Opening band: High Roller Illinois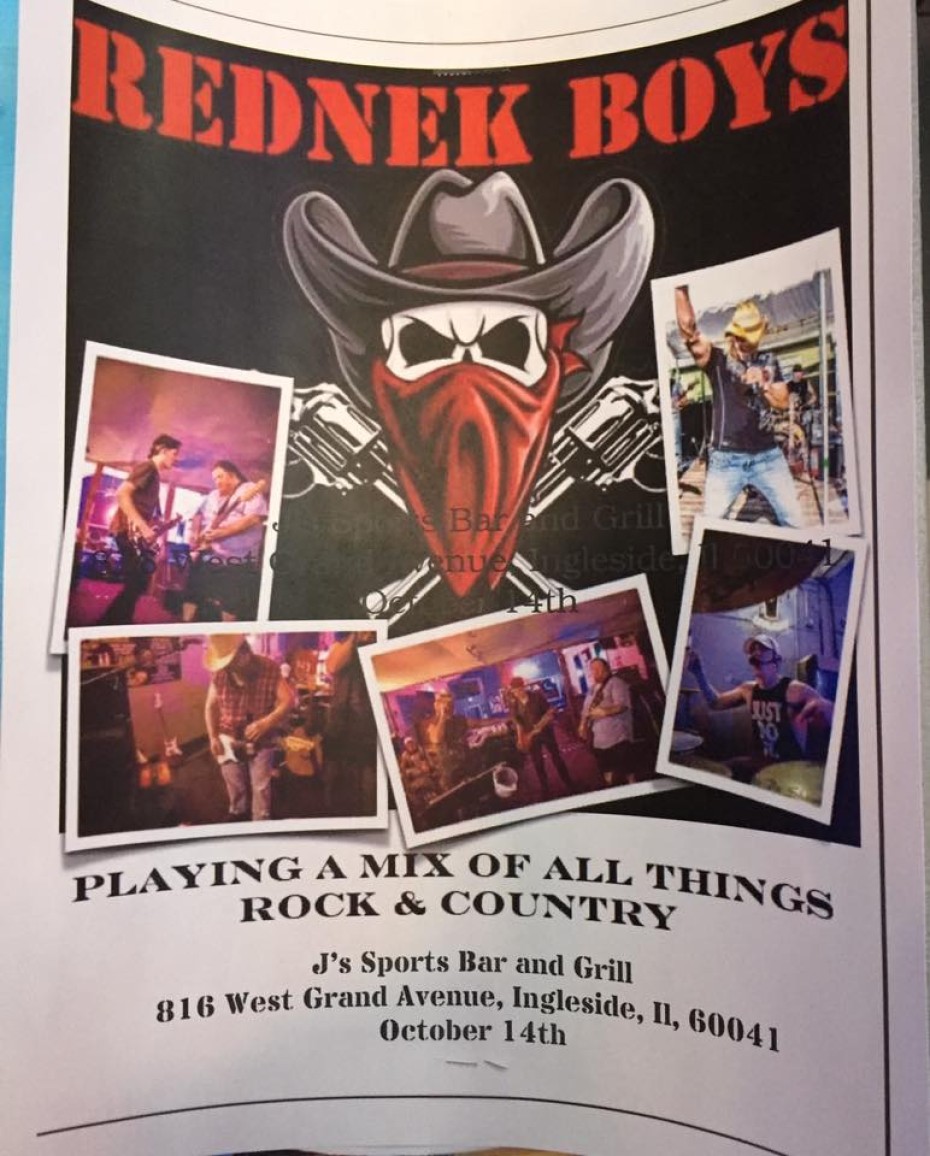 Get ready for some sounds from the South as Rednek Boys take the stage at J'st Sport Bar and Grill at 10 pm.  No Cover Charge, 21+ Show.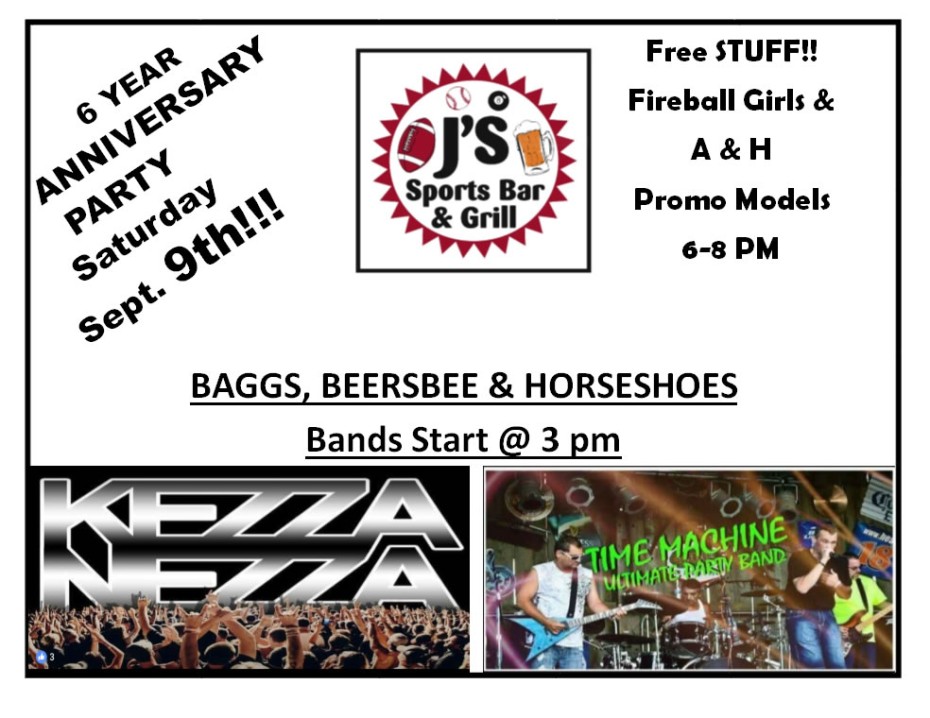 6TH ANNIVERSARY PARTY, September 9th with music starting at 3 pm Come out and help us celebrate our 6 year anniversary! LIVE MUSIC starts outside at 3 pm with with Time Machine Ultimate Party! KEZZA NEZZA – Keeza Neeza – Rock & Roll and classic hits from the 70's to current. (facebook link) Promotional Giveaways Fireball Girls / A & H Promo Models from 6 to 8 pm Great food and drinks available thru out the day…See you there!!!!!
It's time to ride! Our friends at FindARally.com present Bike Night at J's Sports Bar and Grill, Wednesday night, June 14th.  Belt sander races will take place along with a bike wash. Previous images from biker events at J's

Rock cover band Audio Wise performs live at J's Sports bar and Grill, Saturday, May 20, 2017  with special guest the melodic, hard rock Kenosha based band Mixed Company. No Cover charge, show is ages 21 and over. Listen to music from Mixed Company below: Video: Mixed Company – "Divided"
Local hard rock act Emperors Elephants have chosen J's Sports Bar and Grill as their venue to release their new album worldwide.  Special guests Locust Groove will perform at the show as well.  This is a 21+ show, free admission. Show beings at 9 pm with drink specials throughout the night.